Plan a getaway to SirmioneEnjoy a day of thermal pools and boat trips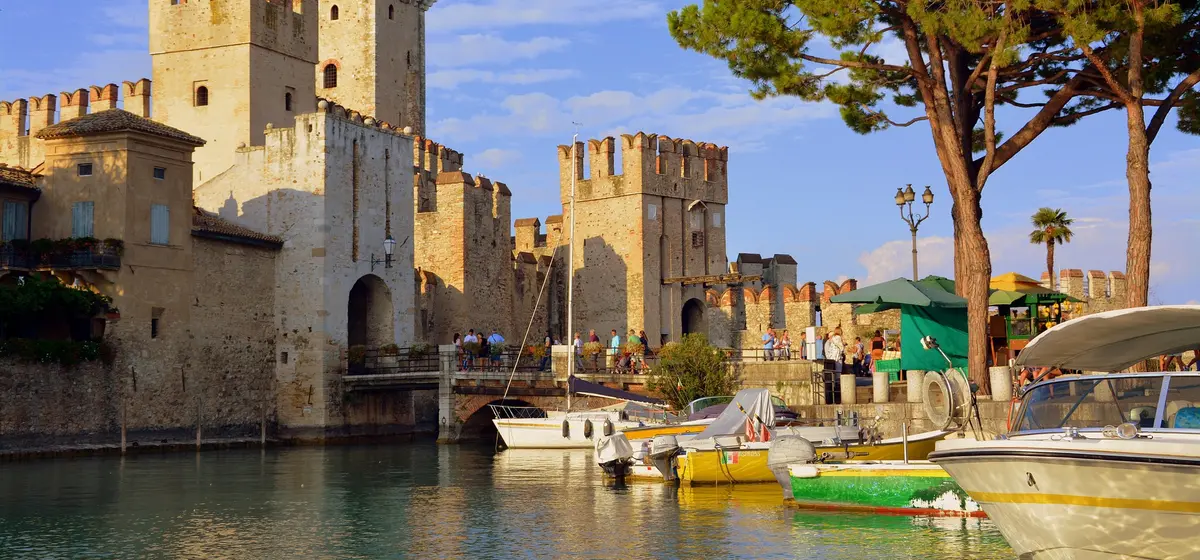 One of the unmissable destinations on Lake Garda is undoubtedly the small hamlet of Sirmione.
One of a kind, Sirmione lies on a thin strip of land which separates the lower Garda lake into the gulfs of Peschiera and Desenzano.
The only access point to the historic centre is the drawbridge of Scagliero Castle (one of the best preserved castles in Italy), because it is slightly detached from terra firma: this makes it look like a floating island.
Things you cannot miss:
Despite the fact that the historic centre is quite tiny, there are many places of interest, but we want to suggest something truly special, something traditional, that will allow you to experience this romantic place which is so full of life to the max.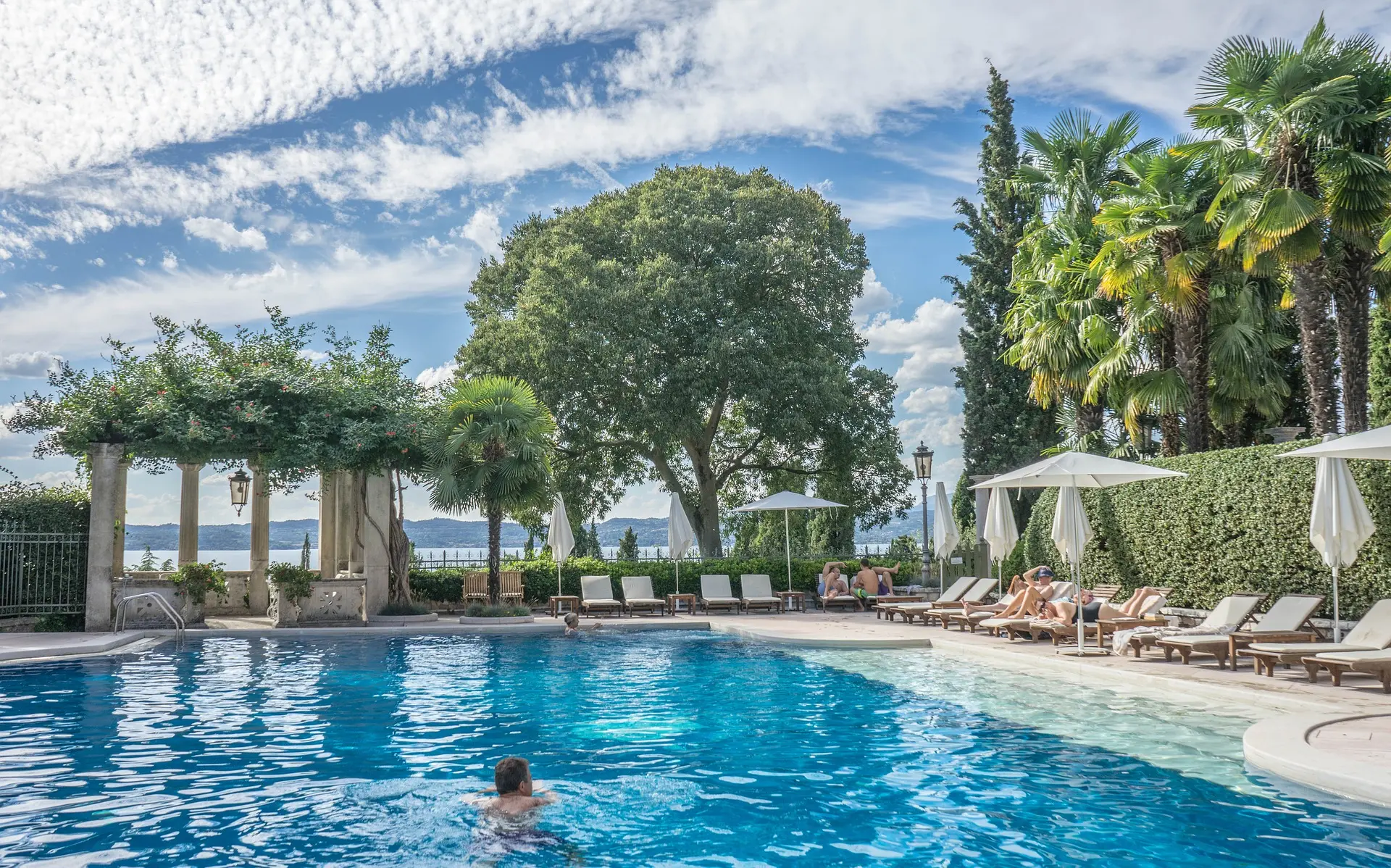 Sirmione's thermal baths
The city of Sirmione is well-known for its thermal sources and, if you are planning a trip to Lake Garda, we strongly suggest including it to your list of spots to visit and, if possible, dedicating a whole day to it.
The very first thermal spa was created in 1890 and it boasts over 125 years of history! Here, you can dedicate yourself to wellness, relaxation but also make the most of the therapeutic effects of the thermal water that gushes in this area (it is very rich in minerals).
Sirmione's thermal baths (Catullus's thermal baths and Virgil's thermal baths) boast indoor pools, open-air spaces with a lake view, sunbeds, and relaxation areas for every need. Furthermore, you can book many services such as the steam bath, regenerating muds, facials and much more when you are at the establishment.
Places worth discovering:
During your getaway to this exceptional hamlet, you can also visit its most characteristic spots!
Catullus's grottoes, Scagliero Castle, the church of Saint Anna... these are some of the marvellous places of interest that Sirmione has to offer.
Take a the stroll in the historic centre, which is one of the most romantic in Italy: it offers wonderful views of the lake at every corner and its historic buildings can transport you into another era.
A small tip
: As you walk through the small streets of the centre, try one of the traditional ice-creams: give in to the temptation of a maxi ice-cream cone which can be found all over Sirmione!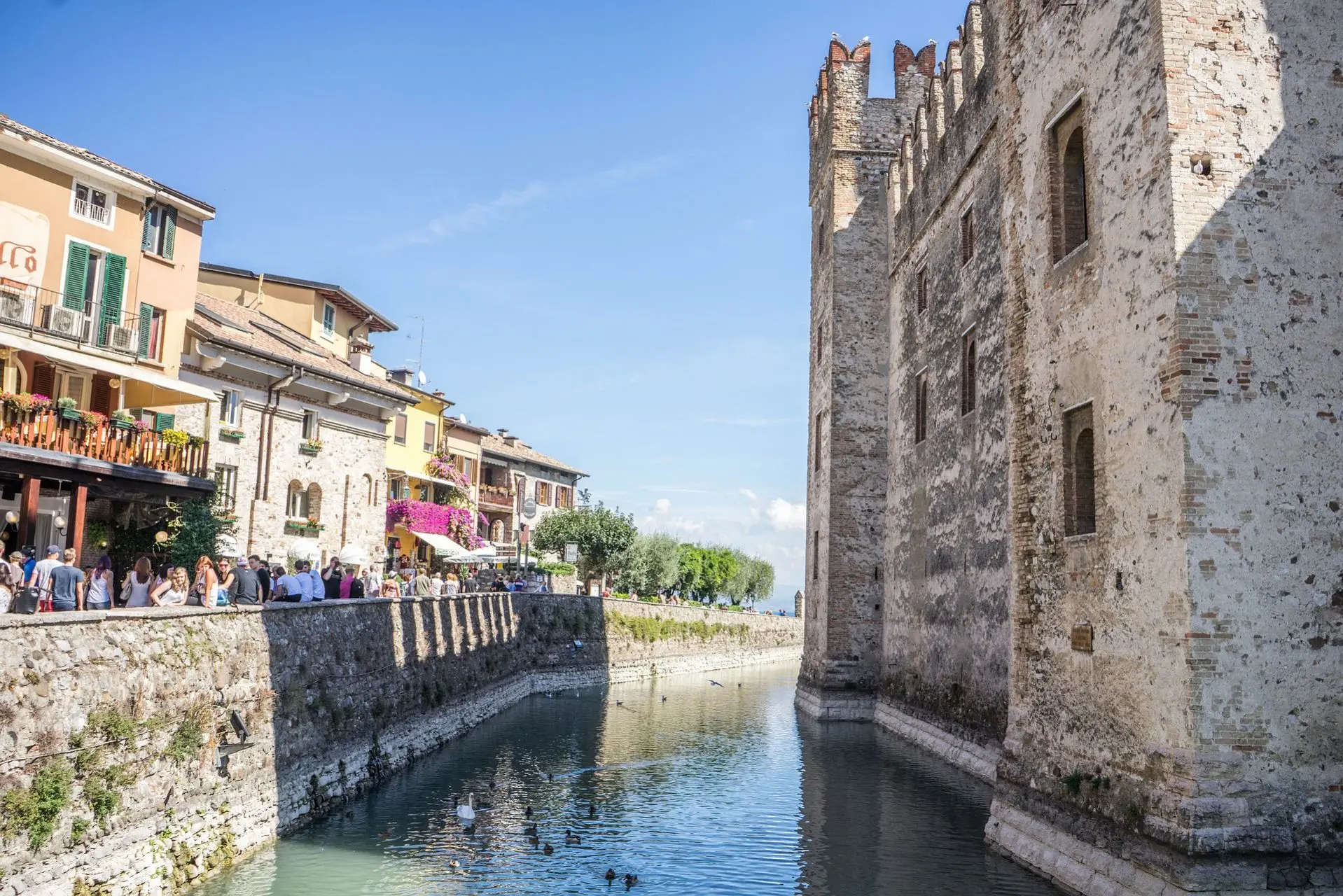 A unique boat trip
If, instead, you wish to experience the lake to the fullest, we recommend booking a boat trip (these range from 20 to 45 minutes). They will allow you to explore the wonders of Sirmione. You can admire its beauty from the water in Lake Garda, circumnavigating the tiny peninsula.
Just outside the historic town centre, you'll spot many boats docked on the tiny stretch of water which splits Sirmione into two: this is where you can book your excursion!
The tour
It starts in the harbour of Scagliero castle, then travels along the peninsula allowing you to see Maria Callas' villa, the place where she found the inspiration to interpret her characters. As you continue, you can observe the beauty of the thermal baths, and look out for the Boiola spring, which is where the beneficial thermal waters of Sirmione come from.
At a certain point, you'll reach the middle of the lake and, at first, it'll appear to be nothing special. But as soon as you put your hand in the water, you'll be totally surprised to discover it's... boiling hot!
You can touch a real thermal spring in the middle of Lake Garda! It's the one that comes from Monte Baldo at over 800 metres in altitude and the one which has made this place famous.
You'll be amazed by the famous grottoes of Catullus, a 1st century b.C. Roman villa where the poet wrote his works; then you'll have to duck your head in order to not hit your head on the castle drawbridge, which brings your marvellous boat trip to a close.
However you wish to experience this very unique town, we promise you that it's truly worth the visit! Make sure you make time during your stay for some time in this
gem on Lake Garda.
We hope you enjoyed reading this article and found it useful!